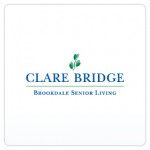 On January 11th of 2012, I had a very long phone call with Vanessa Merse, the Sales and Marketing Manager at Clare Bridge of Ormond Beach. It was just one of many nursing homes and assisted living facilities we contacted after we realized that mom would probably not be able to live by herself. Ms. Merse was incredibly kind and helpful; her facility was simply much too expensive for us to consider it. She was very sympathetic and promised me that she would send me a list of more affordable places in the area that she trusted.
Ms. Merse was one of the very, very, very few people who actually followed through on a promise to me during the entire experience of trying to help mom. I've logged dozens — if not hundreds — of instances on this website of people telling me something was going to happen, or that I would hear more by some date, or that they would return my call by a certain time and almost universally I was disappointed.
Just after lunch I received the email (below) from her. I replied to her a few hours later to thank her. We never spoke again. But I felt like it was important to document this exchange to highlight how important it is to simply keep your word.
Dear David,

It was a pleasure speaking with you earlier about your Mom and her current situation. I'm sorry to hear of all the setbacks and miscommunications you've have been faced with while trying to manage your Moms care. As discussed earlier I have attached a list of skilled nursing facilities, assisted living facilities, and "The Cares" program information. A great place to start would be with Judy Martin of Hampton Manor, she is very well versed in the Medicaid waiver programs and her assisted living facility works with them or The Cares program. If I can be of any further assistance please feel free to contact me. Have a great day!

Skilled Nursing Homes:
Coquina Center
170 N Center Street Ormond Beach (5 mins outside of Daytona)
386-672-7113
Kristi Sommers

Carlton Shores
1350 S. Nova Road
Daytona Beach
386-258-5544
Allison Chasse

Health Center of Daytona Beach
550 National Health Care Dr.
Daytona Beach
386-257-6362
Corrine

Terrace of Daytona Beach
1704 Huntington Village Circle
Daytona Beach
386-255-6571
Debbie

Assisted Living Facilites:
Hampton Manor
1050 Ocean Shore Blvd.
Ormond Beach
386-441-1771
**Judy Martin

The Seasons
515 Tomoka Ave
Ormond Beach
386-671-2616

Grand Villa
535 N. Nova Rd
Ormond Beach
386-673-5000
Amy Bordeley

****The Cares (Division of Elder Source, they assist with Medicaid waiver, ALF, ect.)
386-238-4946

Vanessa Merse, LPN
Sales and Marketing Manager
Clare Bridge of Ormond Beach
240 Interchange Blvd.
Ormond Beach FL. 32174
(386) 672-8800
(386) 589-9296 cell
vmerse@brookdaleliving.com
Community #04480

—————————————– This email may contain confidential protected health information and/or attorney privileged information. If received in error, see our Privacy Statement at http://www.brookdaleliving.com/privacy-policy.aspx