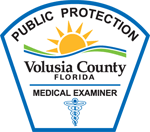 Chris Boden called me from the office of the Volusia County Medical Examiner. The number on my called ID displayed as (386) 736-2700 and for a moment I was hopeful that it might be Dr. Hermann calling to tell me there had been a mistake. But, no.
Chris told me, "Our office made contact with Dr. Peele and he is willing to sign the death certificate." I asked him if he personally spoke to Dr. Peele and he said that, no, it was one of his co-workers who spoke with him. I asked him if he knew why Dr. Peele would suddenly change his mind and he said he did not.
Then, strangely, he asked me, "You know Dr. Hermann is our chief medical examiner here?"
I answered, "Yes. Why do you ask?"
Chris replied, "I just wanted to make sure you know."
I thanked him and said goodbye.
The entire call lasted about two and a half minutes.