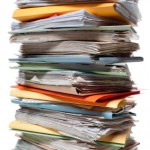 Almost exactly nine months after I started trying to get them, I finally have copies of mom's medical records from the thirty-seven days she spent at Woodland Terrace. Just before two o'clock in the afternoon on May 31st, 2013, I started downloading eight emails from Kelly Mathis of Mathis & Murphy, P.A. Each message contained a PDF comprised of dozens and dozens of scanned and faxed pages.
It is unsurprising that the majority of them are barely legible. The handwriting is deplorably bad, notes are incomplete, pages are copied, scanned, or faxed poorly so edges are missing, there is a complete and total lack of organization which is breathtaking, etc. But at least we now have them.
I sent Kelly this email as soon as I realized what was in my Inbox:
Sent: May 31, 2013 @ 2:42 PM PDT
Subject: Medical Records Received!

Kelly,

This afternoon I received from you, via your legal assistant's email address, nine (9) separate emails, each with a single attachment.

So what is the next step? What do we do now?

Thank you!
Later that night I sent this follow-up email to Kelly:
Sent: June 1, 2013 @ 1:13 AM PDT
Subject: Missing Email?

Hey Kelly,

I seem to be missing an email.

I thought you had sent nine (9) messages, each with a PDF attachment, because the first one I received has a subject line of "Records Email 1" and the last one I received has a subject line of "Email 9". But I do not have an email with the subject line "Email 5", so I actually only have eight (8) documents.

Can you please check to see if one your messages was not delivered or if you inadvertently mislabeled them and there are really only eight?

Thank you again. I anxiously await news from you regarding what the next step in this process is.

Sincerely,
Kelly responded to me the following Monday with:
Sent: June 3, 2013 @ 6:22 AM PDT
Subject: RE: Missing Email?

David,

You are correct. There are only 8 emails. I misnumbered them.

Our job now is […].

Kelly