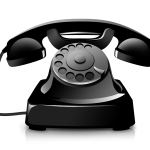 Just before eight o'clock on the morning of February 11th, 2014, I tried calling Detective Whittier of the Deland Police Department.
He had gotten in touch with me immediately after mom died, primarily because — he said — it was so unusual that Woodland Terrace had not provided the paramedics who took her to the hospital with any medical records or personal information. He also seemed very interested in the fact that she suddenly died the day after I forced the Florida Department of Children and Families to send an investigator to check on her, and that I had had so many problems with nurses at Woodland Terrace in the days before she died. I had talked to him several times in the weeks after her death and then, without explanation, he simply stopped responding to my calls.
His number – (386) 740-6925 – had been disconnected, another dead end.