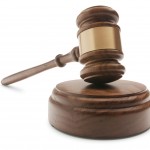 So … out of the blue I received an "Order to Show Cause" from the Seventh Judicial Circuit Court of Volusia County's Probate Division.
The document states that, "nothing has been filed to adequately respond to the Court's Order dated 6/03/2014." I have no idea what that Court Order could have been; I never received anything. It continues, "That David Gagne, personal representative, and Jill Bechtold, counsel of record, are hereby required to appear before this Court in Chambers, at the specified date, time, and location:"
Then there are instructions for me and Jill (who has long, long, long ago flown the coop) to appear in a Deland courthouse on Monday, August 25th, 2014, and a ton of notes about how they're going to issue a bench warrant if I don't appear and that nobody but nobody can possibly revoke or cancel this order, blah blah blah.
So I'll be going to Deland on Monday. I can't imagine that anything helpful, efficient, sensible, logical, or meaningful is going to happen. But I shall continue to tilt at windmills.