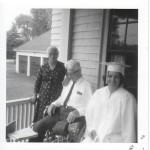 Mom graduated from Pilgrim High School in Warwick, Rhode Island in 1966. Here she is sitting on a front porch with her maternal grandfather, Antonio "Papa Tony" DiFolco, and his sister, Concetta Vicinni, who was visiting from Italy at the time.
The stamp on this photo says October, but I have to assume that's simply when the picture was developed and that she probably graduated around May or June.
---
Update: The woman in this photo was previously incorrectly identified as Concetta "Nana Connie" DiFolco, the wife of Antonio. This has been corrected.