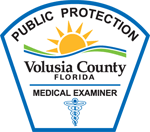 I called the office of the Volusia County Medical Examiner at (386) 258-4060 1 and the phone was answered by Lis. 2 She was listening and seemed interested as I began explaining to her that I was attempting to get more information about what I needed to do to get them to perform an autopsy on my mother. The instant I mentioned Bob Burch, however, she said that she would need to transfer me to him if he was handling the case.
I waited on hold for just a moment and then Bob came on the line. He said, "Bob Burch," and I said, "Hello, Bob. It's David Gagne, we spoke yesterday." I told him that I had spoken with Dr. Peele at about eleven-thirty this morning and that he had told me that he still refused to sign the death certificate because he didn't know why or understand why my mother died and that he wanted an autopsy performed.
Bob told me that he, too, had spoken to Dr. Peele this morning, and that, "even if Dr. Peele requests one, an autopsy will not be performed." I asked him why and he said that the funeral home hadn't contacted him, and that they are the ones who need to initiate the death certificate. I told him that I had talked to Mr. Cusack at the funeral home and he hadn't mentioned anything about that, and that we already knew that Dr. Peele was refusing to sign the death certificate. The hospital where my mom died told me that he refused to sign it and Dr. Peele himself told me that he refused to sign it.
Bob said that he had heard that as well, but that he only had our word on that. Somehow the fact that Dr. Peele had told that to Bob as well was irrelevant, which makes no sense at all to me. Bob said that the medical examiner's office cannot take jurisdiction of the body until they hear from "vital statistics", 3 and that vital statistics hadn't contacted him.
Bob Burch told me that Dr. Peele needs to refuse the funeral home's request for him to sign the death certificate. 4 He said that if the funeral home has an issue, they will call him, and at that point "we'll decide if we need to bring in the body and move on." I asked him what he meant by the phrase "move on" and he said it's up to the medical examiner to decide if she wants to do an autopsy. I asked Bob who the medical examiner is and he said her name is Dr. Marie Hermann.
Bob then said, "It's likely that one will not be done."
I asked, "Why do you say that one will not be done?"
Bob replied, "Because of the medical history that your mother has."
I asked Bob if there was any way to get in contact with her and he said, "Right now, no, because we have not taken jurisdiction." Bob told me, though, that Dr. Hermann had been "briefed" on my mother's case. I asked, "By whom?" and he said, "By me. She's my boss."
Bob then asked me for my phone number, which I gave to him.
He said that his recommendation was to … and then he interrupted himself and asked, "Which funeral home is she at?" I told him that she was at Cusack Mortuary in Deland. He said that I should "let them bring her in." 5.
Then he said, "This will be resolved by tomorrow afternoon."
I said, "So you're going to call the funeral home now?" and he replied, "No, I'm going to call him in the morning."
I asked him if there was any other information I could give him and he said, "No. I've got all I need."
I thanked him and said goodbye.
---
1 Note that all times on this site are Pacific. This call occurred at 4:11 PM EDT.
2 pronounced "lease", apparently short for Lisa
3 He kept referring to "vital statistics" as if this entity was a person, which was a little frustrating. I asked him if he was referring to an office or if it was a state department or what, and he said that it was a state department, but that there was one in each county.
4 in order for the medical examiner's office to take jurisdiction over the body, which would allow them to perform an autopsy
5 confusing, because I don't understand how I have any ability to have any impact on anything that happens at all right now