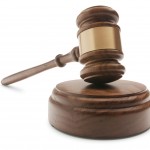 On the afternoon of Saturday, July 20th, 2013, I received a letter from Diane M. Matousek, Clerk of the Circuit Court, Volusia County Seventh Judicial Circuit. (They're on Twitter!) The letter was postmarked July 17th, 2013 and addressed to my home here in Los Angeles.
Inside was a single sheet of paper. The letterhead reads:
IN THE CIRCUIT COURT, SEVENTH JUDICIAL CIRCUIT
IN AND FOR VOLUSIA COUNTY, FLORIDA, PROBATE DIVISION
After that there's a file number and a note indicating that this letter is in reference to the "Estate of Kathleen Gagne, Deceased". It has printed "DIVISION: 10" under the file number.
ORDER TO FILE INVENTORY

THIS CAUSE came before the Court on its own motion and the Court finding from an examination of the file and records that more than sixty (60) days has passed since the Letters of Administration, and the Inventory is not filed as required by Probate Rule 5.340, it is therefore,

ORDERED AND ADJUDGED that David Gagne the personal representative('s) and Jill Bechtold, attorney of record, are hereby required to immediately file the Inventory or submit a petition and proposed order extending time stating with particularity the status of the estate, why an Inventory cannot be filed, and when it will be filed, within 30 days of this order.

Failure to file these documents within the time specified may result in an Order to show cause, if any, why this court should not; adjudge the representative(s), or counsel or both, to be in contempt of court; dismiss this case or remove either the personal representative, or counsel, or both; and/or assess a civil fine, as a result of their failure or neglect to adequately respond to the court's order, noted above.

DONE AND ORDERED in chambers at DeLand, Florida this 16th day of July, 2013.
Above the words "Circuit Judge" appears to be the name C. MkFuin Smith, III ABU, but it's a signature and I can't really tell if that's actually the name. In lowercase to the left and below that is an "sw", which — if I recall anything from the 1970s — means that's who typed the letter.
Then at the bottom the letter is notarized:
I HEREBY CERTIFY that a copy of this Order has been mailed to the personal representative(s) and the attorney of record this 17 day of July, 2013.

Diane M. Matousek, Clerk of Circuit Court

By: (signature) Joanne D. Brayton, Deputy Clerk
And there's an old-timey stamp at the very bottom that indicates this was "FILED" 2013 JUL 16 PM 1:40 CLERK OF THE CIRCUIT & CTY.COURT VOLUSIA CTY.,FL CC50.
---
What does this mean? I have no idea at all. I don't know what inventory I was supposed to file, and — as far as I know — there is no "case" right now in progress. Also troubling, of course, is that Jill Bechtold left the law firm of Mathis & Murphy, P.A. in April, and — again: as far as I know — she was not ever actually "the attorney of record".
In just a few weeks it will be the one-year anniversary of our mother's death.