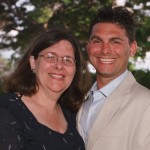 Today would have been mom's sixty-seventh birthday. My sister and I are going to take my son to Walt Disney World for the day. I think that would have made her happy.
In the car on the way to school yesterday, he asked me how old mom was going to be. I said she would have been 67 or 68, and that I couldn't remember. He said, "You should just call her on your phone and ask her!" Trying to explain death to a five-year old isn't easy. When I told him she wasn't here any more, he asked where she was. When I said she was far away, he asked if she was on another planet. He's young enough, I think, to still not be able to tell whether I'm crying or laughing sometimes, which is probably good.
I love him so much and wish he'd gotten to know his Nana Gagne.
Happy birthday, mom.